Agent 007 must save millions of lives in this crackling dynamo of an adventure, jam-packed with the most spectacular action sequences ever filmed. With his wit, elegance and style, Roger Moore lends lethal charm to his final performance as James Bond.
When Bond is sent to investigate a security leak at the high-tech Zorin Industries, he discovers a hotbed of murder and deception. The company's mysterious owner, Max Zorin (Christopher Walken) has devised a plan to corner the world's microchip market, even if he has to kill millions to do it! But before Bond can stop Zorin, he must confront the madman's beautiful and deadly companion May Day (Grace Jones). With help from the gorgeous Stacey (Tanya Roberts), Bond will launch an all-out assault on Zorin's deadly scheme, climaxing in a spine-tingling duel on the upper spans of the Golden Gate Bridge.
The suspense moves at full throttle, propelled by thrilling chases, vicious brawls, and explosive gun battles. It's an edge-of-your-seat action thriller with the style, wit, and sizzling sensuality of Agent 007 himself.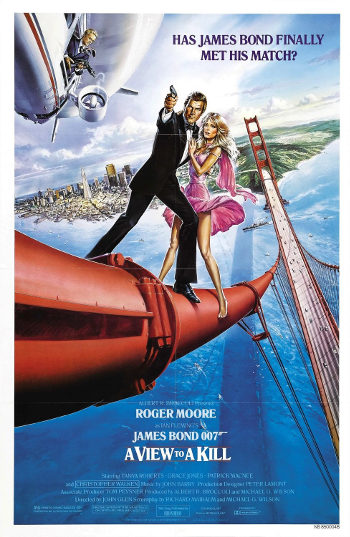 Facts
Rated: PG
Number in Series: 14
Running Time: 126 minutes
Budget: $30 million
UK Premiere: June 12, 1985
US Premiere: May 24, 1985
Cast
James Bond: Roger Moore
Moneypenny: Lois Maxwell
M: Robert Brown
Q: Desmond Llewelyn
Bond Girl (Stacy Sutton): Tanya Roberts
Bond Girl (Pola Ivanova): Fiona Fullerton
Villain (Max Zorin): Christopher Walken
Crew
Writing Credits: Ian Fleming
Producer: Albert R. Broccoli
Producer: Michael G. Wilson
Director: John Glen
Composer: John Barry
Title Song: Duran Duran
Production Design: Peter Lamont
Full Cast & Crew: IMDB.com
Buy A View to a Kill (1985)