James Bond battles the forces of black magic in this energetic, passionate adventure that hurtles from New York City streets to Louisiana bayou country. As Agent 007, Roger Moore infuses the dynamic action hero with charm, wit and deadly assurance.
When Bond investigates the murders of three fellow agents, he soon finds himself a target, evading vicious assassins as he closes in on the powerful Kananga (Yaphet Kotto). Known on the streets as "Mr. Big," Kananga is coordinating a globally threatening scheme using tons of self-produced heroin. As Bond tries to unravel the mastermind's plan, he meets Solitaire (Jane Seymour), the beautiful Tarot card reader whose magical gifts are crucial to the crime lord. Bond, of course, works his own magic on her, and the stage is set for a series of pulse-pounding action sequences involving voodoo, hungry crocodiles and turbo-charged speedboats.
Complete with such imaginative gadgets as Bond's super-magnetic wristwatch and an amazing compressed-gas pistol, Live and Let Die is a breathtaking, high-energy rollercoaster of non-stop thrills.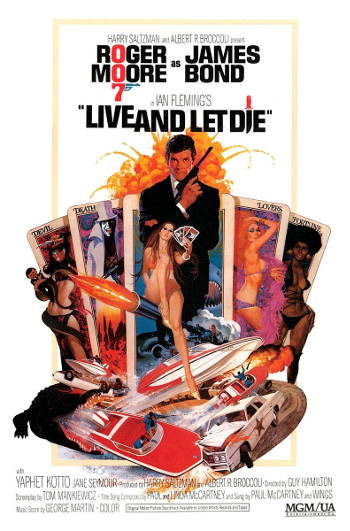 Facts
Rated: PG
Number in Series: 8
Running Time: 116 minutes
Budget: $12 million
UK Premiere: July 06, 1973
US Premiere: June 27, 1973
Cast
James Bond: Roger Moore
Moneypenny: Lois Maxwell
M: Bernard Lee
Q: Desmond Llewelyn
Bond Girl (Solitaire): Jane Seymour
Bond Girl (Rosie Carver): Gloria Hendry
Villain (Kananga aka Mr. Big): Yaphet Kotto
Henchman (Tee Hee): Julius H. Harris
Crew
Writing Credits: Ian Fleming
Producer: Albert R. Broccoli
Producer: Harry Saltzman
Director: Guy Hamilton
Composer: George Martin
Title Song: Paul McCartney and Wings
Full Cast & Crew: IMDB.com
Buy Live and Let Die (1973)