Sean Connery is back for his final performance as superagent James Bond in this high-velocity action thriller from the director of The Empire Strikes Back.
When two atomic warheads are hijacked by the evil SPECTRE organization, Agent 007 is hurled into an explosive, pulse-pounding race to save the world from nuclear terrorists!
Note: This movie is considered an "unofficial" James Bond movie because it was not produced by Eon Productions. Instead, it was produced by the independent production company Producers Sales Organization. One of its members was Kevin McClory, an original writer of the Thunderball story line with Ian Fleming and Jack Whittingham. McClory retained the filming rights of the novel following a long legal battle dating from the 1960s, and this movie was the result of his push to create a movie.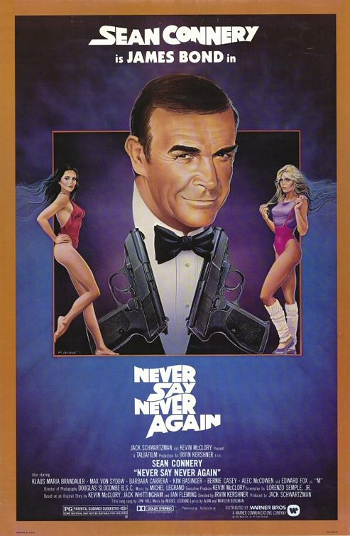 Facts
Rated: PG
Number in Series: 13
Running Time: 134 minutes
Budget: $36 million
UK Premiere: December 14, 1983
US Premiere: October 07, 1983
Cast
James Bond: Sean Connery
Moneypenny: Pamela Salem
M: Edward Fox
Q: Alec McCowen
Bond Girl (Domino): Kim Basinger
Villain (Emile Largo): Klaus Maria Brandauer
Henchman (Fatmia Blush): Barbara Carrera
Crew
Writing Credits: Kevin McClory
Producer: Jack Schwartzman
Producer: Kevin McClory
Director: Irvin Kershner
Composer: Michel Legrand
Title Song: Lani Hall
Full Cast & Crew: IMDB.com
Buy Never Say Never Again (1983)