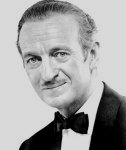 David Niven
David Niven was born March 1, 1910 in Belgrave Mansions, London, England, UK. He was the son of a well-to-do British Army lieutenant who died at Gallipoli in 1915. Because of his father's reputation he entered the Royal Military College where he earned the rank of second lieutenant in the Highland Light Infantry.
Niven insisted that he fell into acting without any prior interest but he had done some amateur theatricals in college. In 1935 he became a Hollywood extra and ultimately came to the attention of producer Samuel Goldwyn. This is when his acting career took off, and eventually landed the role of James Bond in 1967's Casino Royale.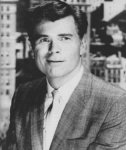 Barry Nelson
Nelson entered films in 1941 as a supporting player and second string lead. He evolved into a dashing TV lead in the 50s and 60s (including a portrayal of James Bond in 1954's
Casino Royale
) and found his greatest success on the Broadway stage in a series of hit comedies and musicals.
He proved adequate and good-humored in his often limited film roles, usually cast as the requisite male lead who provided support to his established leading ladies including Ginger Rogers in The First Traveling Saleslady (1956), Ann Sothern in Undercover Maisie (1947), Margaret O'Brien in Tenth Avenue Angel (1948) and Debbie Reynolds in Mary, Mary (1963).
Barry Nelson passed away on April 7, 2007.