James Bond is thrust into one of his most amazing adventures in this relentless juggernaut of danger, passion and non-stop excitement. Sean Connery portrays Agent 007 with the class and sex appeal befitting film history's original action hero.
After a mysterious rocketship seizes manned space missions from Earth's orbit, suspicions mount and the world superpowers are hurled to the brink of war. Their only hope rests with James Bond, who races to stop the space-jackings' true mastermind, Ernst Blofeld (Donald Pleasence). Chief of the evil SPECTRE organization, Blofeld is bent on instigating global warfare from his massive headquarters nestled in an inactive volcano. As the countdown begins, Bond joins forces with the luscious Japanese agent Kissy Suzuki (Mie Hama) and scores of Ninja warriors to mount a daring raid on Blofeld's lair and prevent a calamitous world war.
With dazzling high-tech gadgetry that includes Bond's lethal mini-copter (equipped with flame throwers and air-to-air missiles), You Only Live Twice is a magnificent, pull-out-the-stops movie spectacular.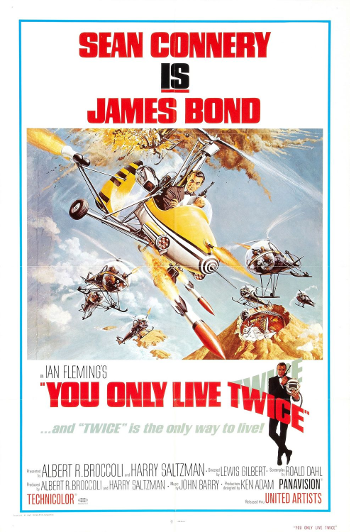 Facts
Rated: PG
Number in Series: 5
Running Time: 112 minutes
Budget: $9.5 million
UK Premiere: June 12, 1967
US Premiere: June 13, 1967
Cast
James Bond: Sean Connery
Moneypenny: Lois Maxwell
M: Bernard Lee
Q: Desmond Llewelyn
Bond Girl (Kissy Suzuki): Mie Hama
Bond Girl (Aki): Akiko Wakabayashi
Villain (Ernst Blofeld): Donald Pleasance
Henchman (Mr. Osato): Teru Shimada
Crew
Writing Credits: Ian Fleming
Producer: Albert R. Broccoli
Producer: Harry Saltzman
Director: Lewis Gilbert
Composer: John Barry
Title Song: Nancy Sinatra
Production Design: Ken Adam
Full Cast & Crew: IMDB.com
Buy You Only Live Twice (1967)