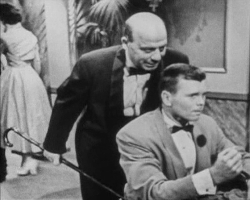 Cane Gun
Le Chiffre's henchman Zoltan presses this weapon against Bond's back after Bond defeats Le Chiffre at a high-stakes baccarat game. He threatens to blow away Bond's spine without a sound, unless he accompanies him to an office to give back Le Chiffre's money.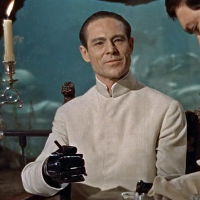 Metallic Hands
Dr. No's strong metallic hands were put in place after an accident during radioactive testing.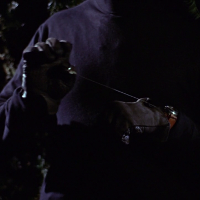 Grant's Watch Garrote
Red Grant uses strangulation wire hidden in his watch during the exercise to kill James Bond in the beginning of the movie.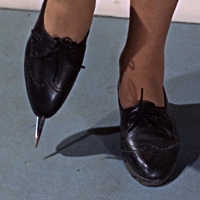 Klebb's Poison Shoe Knife
Rosa Klebb uses this SPECTRE special weapon to try and assassinate Bond. Bond subdues her with a chair and is eventually shot to death by Romanova.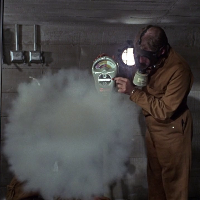 Parking Meter Smoke Bomb
This background gadget seen in Q's lab fills up a test room with smoke.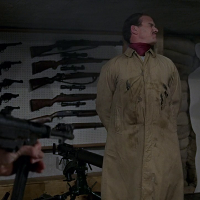 Extreme Bulletproof Vest
This background gadget seen at Q's lab, although "not perfected yet," seems to protect the wearer from almost point-blank gunshots, even from an automatic weapon.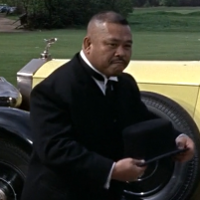 Oddjob's Bowler Hat
The quiet Oddjob's small stature is deceiving, as he makes up for it in brute strength (crushing a golf ball by hand) and by using this bowler hat (which is lined with a razor sharp edge) as a throwing weapon.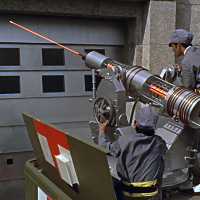 Goldfinger's Laser
Goldfinger not only uses this laser to cut through the door of Fort Knox, he also uses it as a torture device on 007, until Bond reveals he knows too much about Operation Grand Slam.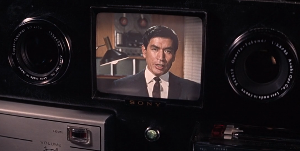 Car Facetime
For 1967, this technology was way ahead of its time. Aki uses this dashboard device inside her Toyota 2000GT to contact her superior, Tanaka.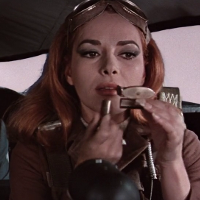 Lipstick Smoke Bomb
Helga Brandt uses this lipstick bomb while piloting a single-engine plane with Bond on board. She detonates the bomb, restrains Bond with a wooden board and parachutes out of the doomed plane. Too bad for her that Bond eventually escapes the restraints and lands the plane just in time.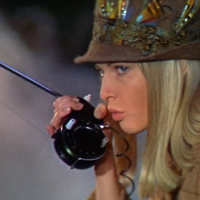 Fishing Pole Radio
A SMERSH operative fishing on a river bank uses this pole gadget to contact control to tell them that Sir James Bond has entered Scotland.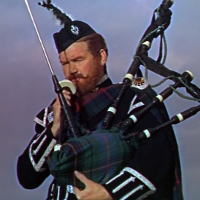 Bagpipe Radio
This Scottish SMERSH agent takes a break from his bagpipe playing on top of McTarry Castle to inform control that it is completely occupied and that Plan B is moving forward to destroy Bond's celibate image.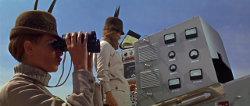 Explosive Homing Bird Launcher
This launcher operated by SMERSH operatives was designed to launch explosive fake birds that homed in on Sir James Bond via a magnetic homing device on one of his buttons. Sir Bond's aim with his shotgun and assistance from a turned Lady Fiona McTarry avoid his death by fowl play.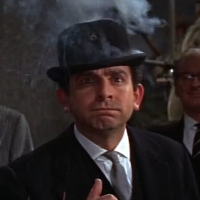 Bowler Hat Gun
This bowler hat gun and its functionality is shown as Evelyn Tremble is walked through training, however fails, thus exploding on the inspector's head.