Bond has gone down in movie history as the most unstoppable secret agent, the man with the clever mind who always got the girl, but he had to begin somewhere.
This movie stars the original James Bond, the one on which the entire James Bond film legacy began. Barry Nelson is the first James Bond, a dashing, undercover agent who prevails over evil.
This black and white ORIGINAL Bond will thrill you like all the Bond films which followed. Peter Lorre stars as the malicious villain and Linda Christian stars as the original Bond beauty in this full-length action adventure.
Note: This is the first on-screen adaptation of Ian Fleming's James Bond character. It was featured on television as an episode of the dramatic anthology series Climax!, hosted by William Lundigan, airing on CBS from 1954 to 1958. It is considered an "unofficial" James Bond movie because it was not produced by Eon Productions.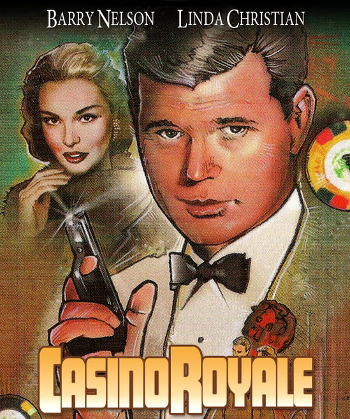 Facts
Rated: PG
Number in Series: 0
Running Time: 54 minutes
Budget: n/a
UK Premiere: None
US Premiere: October 21, 1954
Cast
James Bond: Barry Nelson
Bond Girl (Valerie Mathis): Linda Christian
Villain (LeChiffre): Peter Lorre
Crew
Writing Credits: Ian Fleming
Writing Credits: Anthony Ellis
Director: H. Brown Jr.
Full Cast & Crew: IMDB.com
Buy Casino Royale (TV)


Amazon Instant Video
Blu-ray
DVD
Novel
Soundtrack