From "shocking" prologue to exhilarating mid-air climax, Goldfinger is a lightning-paced James Bond adventure that pits 007 against one of his most formidable opponents. Sean Connery is Agent 007 in this fourteen-karat thriller brimming with non-stop action, humor and almost unbearable excitement.
The powerful tycoon Auric Goldfinger (Gert Frobe) has initiated "Operation Grand Slam," a cataclysmic scheme to raid Fort Knox and obliterate the world economy. James Bond, armed with his specially equipped Aston Martin (its accessory package includes built-in machine guns, a smoke screen and an ejector seat), must stop the plan by overcoming several outrageous adversaries. First there's Oddjob (Harold Sakata), the mute servant who kills at the toss of a lethal hat; next, the beautiful Jill Masterson (Shirley Eaton), who gives new meaning to the phrase "golden girl;" and finally, sexy pilot Pussy Galore (Honor Blackman), whose romantic feelings for Bond complicate her involvement in Goldfinger's high-flying scheme.
With style, wit and wildly imaginative stunt sequences, this adrenaline-charged adventure ranks as one of the all-time great action films. It's an electrifying thrill ride that will captivate viewers from beginning to end.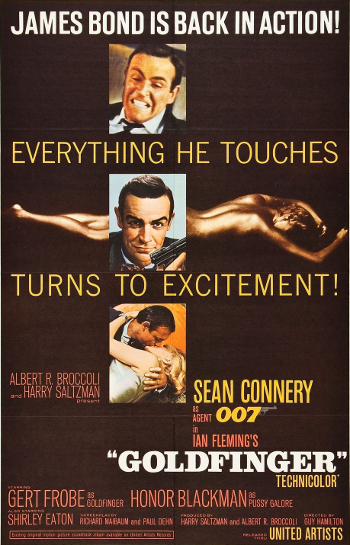 Facts
Rated: PG
Number in Series: 3
Running Time: 105 minutes
Budget: $3.5 million
UK Premiere: September 17, 1964
US Premiere: December 22, 1964
Cast
James Bond: Sean Connery
Moneypenny: Lois Maxwell
M: Bernard Lee
Q: Desmond Llewelyn
Bond Girl (Pussy Galore): Honor Blackman
Bond Girl (Jill Masterson): Shirley Eaton
Villain (Auric Goldfinger): Gert Frobe
Henchman (Oddjob): Harold Sakata
Crew
Writing Credits: Ian Fleming
Producer: Albert R. Broccoli
Producer: Harry Saltzman
Director: Guy Hamilton
Composer: John Barry
Title Song: Shirley Bassey
Production Design: Ken Adam
Full Cast & Crew: IMDB.com
Buy Goldfinger (1964)