Sir James Bond is enjoying his retirement when four international agents press him into service again in hopes of smashing SMERSH and Topple LeChiffre at the baccarat tables. Bond is taken in by Agent Mimi (alias Lady Fiona McTarry) who immediately falls in love with him. Bond's illegitimate daughter, Mata Bond, whose mother was the late Mata Hari, is going to help out.
The current agent using the Bond name, Cooper, has his hands full, despite his assistance by beautiful secretary, Moneypenny. 007's nephew Jimmy Bond is supposedly incompetent. Bond, hoping to clear his name from its current low repute, hires Evelyn Tremble to meet LeChiffre at the gambling tables at Casino Royale. The world's richest agent, Vesper Lynd, helps convince Tremble to masquerade as 007.
Note: This movie is considered an "unofficial" James Bond movie because it was not produced by Eon Productions. Charles K. Feldman, the producer, had acquired the film rights in 1960 and had attempted to get Casino Royale made as an Eon Productions Bond film, however, Feldman and Eon Productions' Albert R. Broccoli and Harry Saltzman failed to come to terms. Believing that he could not compete with the Eon series, Feldman instead produced the movie as a spy satire.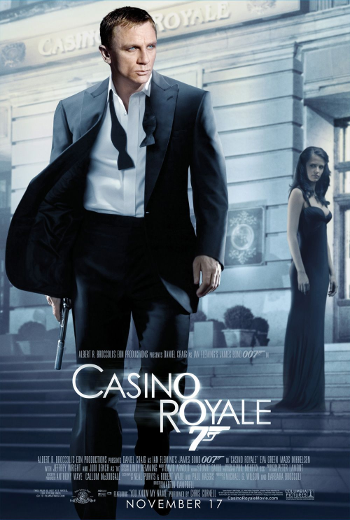 Facts
Rated: PG
Number in Series: 6
Running Time: 131 minutes
Budget: $12 million
UK Premiere: April 13, 1967
US Premiere: April 19, 1967
Cast
James Bond: David Niven
Moneypenny: Barbara Bouchet
M: John Hston
Q: Geoffrey Bayldon
Bond Girl (Vesper Lynd): Ursula Andress
Villain (LeChiffre): Orson Welles
Henchman (Smernov): Kurt Kasznar
Crew
Writing Credits: Ian Fleming
Producer: Charles K. Feldman
Producer: Jerry Bresler
Director: Ken Hughes, John Huston, Joseph McGrath, Robert Parrish and Val Guest
Composer: Burt Bacharach
Title Song: Herb Albert & the Tijuana Brass
Production Design: Michael Stringer
Full Cast & Crew: IMDB.com
Buy Casino Royale (1967)