A fortune in diamonds thrusts James Bond into more explosive danger. Sean Connery returns to his greatest role in this thrilling 007 adventure laced with action, humor and amazing special effects.
When Bond investigates mysterious activities in the world diamond market, he discovers that the evil Ernst Blofeld (Charles Gray) is stockpiling the precious gems to use in his deadly laser satellite capable of destroying massive targets on land, sea and air. Bond, with the help of beautiful smuggler Tiffany Case (Jill St. John) sets out to stop the madman, but first he must grapple with a host of enemies. He confronts offbeat assassins Mr. Wint and Mr. Kidd, as well as Bambi and Thumper — two scantily clad beauties who are more than a match for Bond in hand-to-hand combat. Finally, there's the reclusive billionaire Willard Whyte (Jimmy Dean), who just may hold a vital clue to Blofeld's whereabouts.
As the rapid-fire action kicks into overdrive, there's a gripping moon buggy chase, a wild pursuit through the streets of Las Vegas, and a large-scale aerial assault in which the fate of the world hangs in the balance. Diamonds Are Forever is a dynamic, full-throttle thriller of the highest caliber.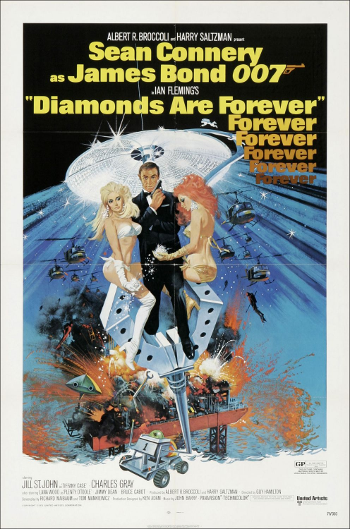 Facts
Rated: PG
Number in Series: 7
Running Time: 115 minutes
Budget: $10 million
UK Premiere: December 30, 1971
US Premiere: December 17, 1971
Cast
James Bond: Sean Connery
Moneypenny: Lois Maxwell
M: Bernard Lee
Q: Desmond Llewelyn
Bond Girl (Tiffany Case): Jill St. John
Bond Girl (Plenty O'Toole): Lana Wood
Villain (Ernst Staviro Blofeld): Charles Gray
Henchman (Mr. Wint): Bruce Glover
Henchman (Mr. Kidd): Putter Smith
Crew
Writing Credits: Ian Fleming
Producer: Albert R. Broccoli
Producer: Harry Saltzman
Director: Guy Hamilton
Composer: John Barry
Title Song: Shirley Bassey
Production Design: Ken Adam
Full Cast & Crew: IMDB.com
Buy Diamonds Are Forever (1971)