In the second Bond film, 007 goes up against treacherous villains, and seductive women.
In From Russia With Love, Bond has to get possession of a device called the Lektor before the evil villains of SPECTRE (Special Executor for Counter-intelligence, Terrorism, Revenge, Extortion) can get a hold of it and abuse the power it holds. The Lektor is capable of revealing military secrets to anyone that has it in its possession.
Once again it is up to Bond to save the world from utter destruction.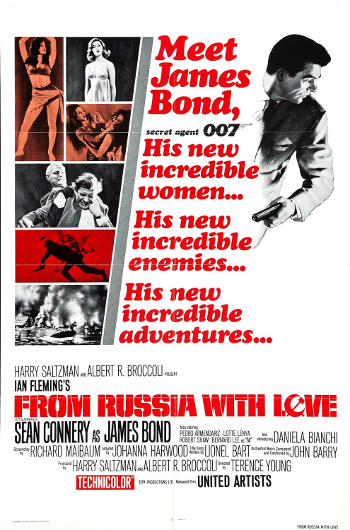 Facts
Rated: PG
Number in Series: 2
Running Time: 110 minutes
Budget: $2.5 million
UK Premiere: October 10, 1963
US Premiere: April 08, 1964
Cast
James Bond: Sean Connery
Moneypenny: Lois Maxwell
M: Bernard Lee
Q: Desmond Llewelyn
Bond Girl (Tatyana Romanova): Daniela Bianchi
Villain (Rosa Klebb): Lotte Lenya
Henchman (Red Grant): Robert Shaw
Crew
Writing Credits: Ian Fleming
Producer: Albert R. Broccoli
Producer: Harry Saltzman
Director: Terence Young
Composer: John Barry
Title Song: Matt Monro
Full Cast & Crew: IMDB.com
Buy From Russia with Love (1963)