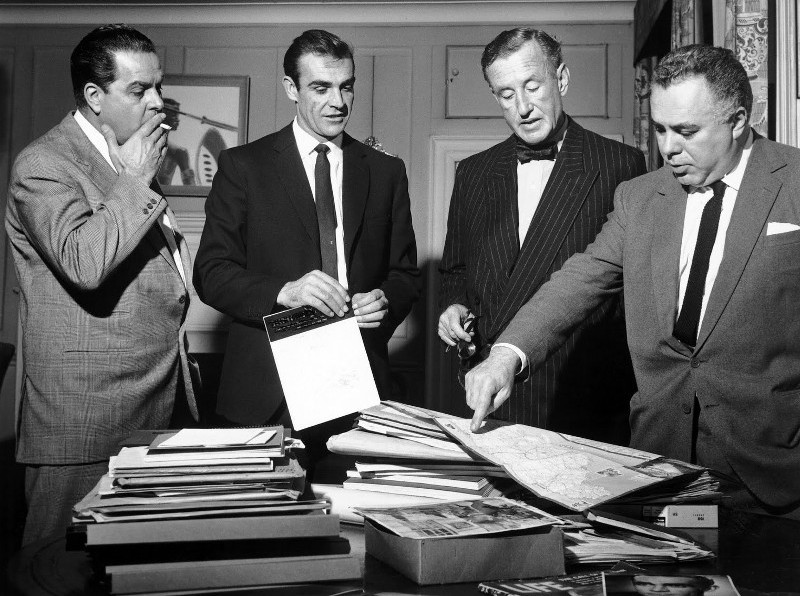 James Bond started out as a popular character in Ian Fleming's novels. The first novel, Casino Royale, was released on April 13, 1953 to mixed reviews and modest sales. Fleming's semi-autobiographical character had an audience, and television network CBS recognized it. They brought 007 to the small screen by adapting the character into an episode of their popular Climax! weekly anthology series in 1954.
Over the course of the following decade, Fleming's character made it into a comic strip in the Daily Express newspaper and rose in popularity, especially after President Kennedy rated the Fleming novel From Russia, With Love as one of his favorites. Its biggest splash, however, was obviously made when it reached the movie screens.
The key figures in getting 007 to the big screen are producers Albert R. "Cubby" Broccoli and Harry Saltzman. Near the height of Bond's literary popularity, Saltzman approached Fleming and gained the rights to the character. Alongside Cubby, Saltzman founded the holding company Danjaq S.A. (named after their wives Dana Broccoli and Jacqueline Saltzman) and subsidiary production company Eon Productions.
Their first James Bond movie, Dr. No, was released in 1962 and the rest, as they say, is history.